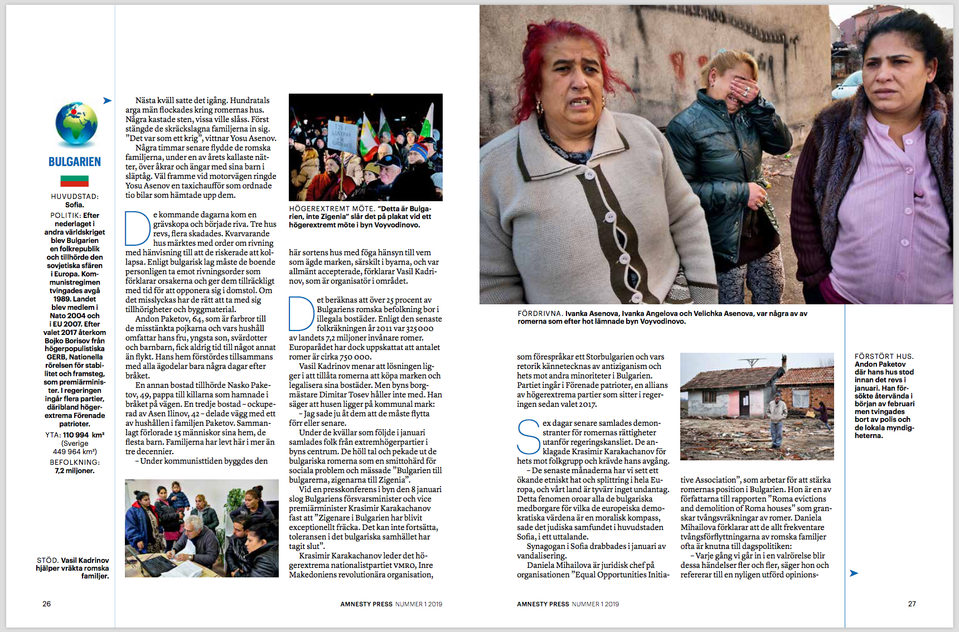 (Photos and Text by Jodi Hilton) Across a vacant lot, past
a group of stray dogs, there is a settlement of one-story barracks opposite the
shabby apartment blocks of Stolipinovo in Bulgaria. Stolipinovo was established
to provide housing to those who moved to the countryside to find jobs in the
industrial sector during the Communist period. Among those who settled here
were thousands of Roma families. After the Communist government fell in 1989,
the Roma population continued to grow. Now, it's one of the largest Roma
ghettos in Europe, with about 50,000 inhabitants. Katerina Asenova, a 34
year-old mother of three, is growing weary of living there. She and her
husband, parents and two sisters have rented such a barrack for 40 euros a month.
They are squeezed into the only one of the three rooms which offers comfort. There
are holes in the ceiling and moldy walls and no electricity, but it has a wood
stove and a queen-sized bed and on old carpet on the floor. "This is misery,"
says Asenova. "I just want to go home."
"Home" is a Roma settlement
at the end of the village of Voyvodinovo, 10 kilometers away. There, 17 squat
houses were occupied by 76 members of her extended family until they were
chased out a month earlier.
The troubles started on
the 6th of January, the day of Epiphany. Some say that Corporal
Valentin Dimov, a little drunk after celebrating, drove his car into the Roma youth
(two brothers, aged 17 and 21), then got out of his car and began insulting
them for being on the road. Others say the boys blocked the car and attacked
him. The local mayor Dimitar Toskov says Dimov was found badly beaten, bleeding
from the nose and ears. He was hospitalized and underwent surgery for "multiple
fractured bones on his face, the sinuses," reported Focus News Agency. The Roma
boys were promptly arrested. As word spread around the village, tensions rose.
The Mayor came to warn us,
said Asenova's father, Yosu Asenov, 60. "He told us that you will have to
leave."